Composting has risen in popularity as people are becoming more eco-friendly and developing a green thumb. People love their at home gardens, whether they just want amazing curb appeal or they love to grow fruits and vegetables for their loved ones. As a result, the need for compost tumbler bins is growing. But with all of the different options available, how do you select the right one for your needs.
The better-quality compost you have, the better your garden will look and grow. Today we will take a look at the 7 best options that you can choose from for your composting needs.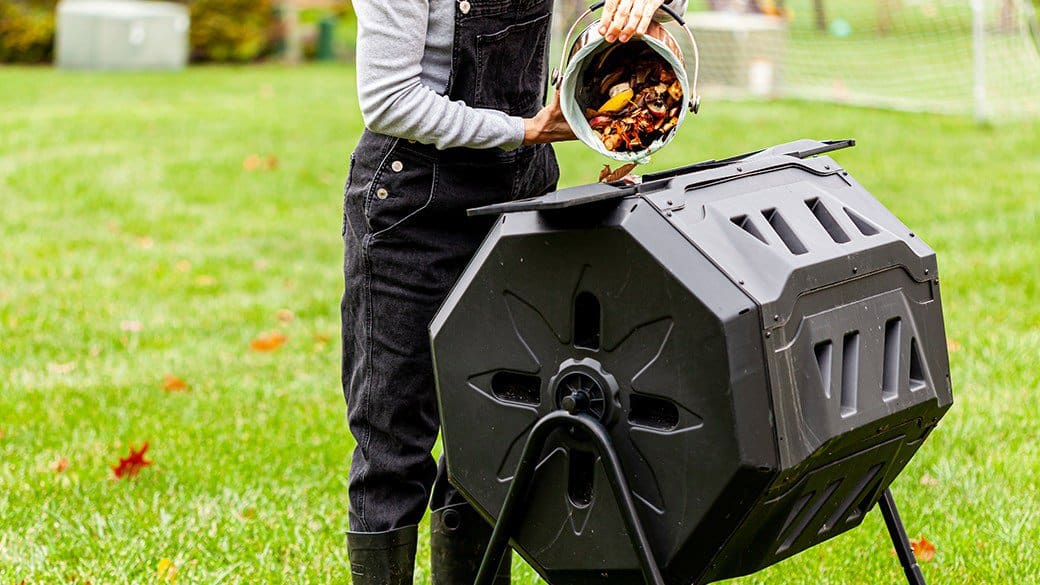 1. IM4000 Dual Chamber Tumbling Composter (Black)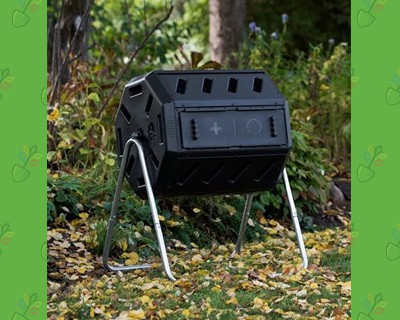 If you are a beginner to composting and to composting bins, then FCMP Outdoor IM4000 Tumbler Composter can be an excellent option for you to consider. This is an easy-to-use option that was made for beginners. Due to the larger openings and the removable door, you can easily both add your scraps and clippings and remove the compost when it has been completed. There are two chambers to this compost bin, which is great because you can use one side to store completed compost, while using the other side to create more compost. This helps reduce the likelihood of you running out of compost when you really need it the most.
The 37-gallon capacity of this bin is perfect for the at-home gardener who doesn't require a lot of compost for their needs. It's also a highly durable composting bin that is BPA-free, UV-inhibited, and corrosion resistant which means that this tumbler bin was built to last. This specific option is also one of the most affordable tumbler bins on this list, which makes it even more appealing to beginners.
There are so many things to love about this bin, from ergonomic handles to amazing aeration. Whether you are just starting out or just don't need a fancy composting tumbler bin, this is a great choice for you.
2. Garden Compost Bin from EJWOX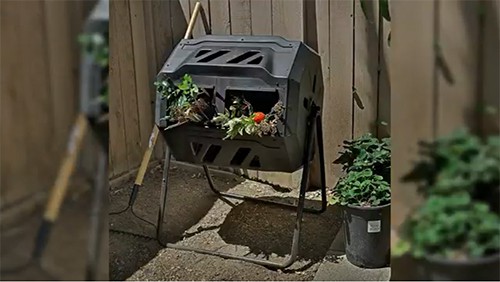 EJWOX garden compost bin has a capacity of 43 gallons, offering dual chambers as part of this composting bin. Dual chamber composting bins are great because it ensures that you always have compost available for you when you need it. You are also going to love the aeration system that this composting bin offers. This bin was designed to get the airflow and heat retention that you need to create the quality compost that will make your garden stand out.
The design of this bin is incredibly useful, making your life easier when composting. First of all, it has a highly durable construction. This means that this composting bin can really stand up and last you for a long time. It was also designed to have a convenient loading height, which makes it much easier to use something like a cart to load and unload the composting bin. Lastly, it has a 360-degree rotation design, which can provide you with fast and highly efficient composting. The exact time it takes to compost with this tumbler bin can vary, depending on different factors including the temperature outside.
You will love how affordable this option is, especially when you consider how much composting can save you from buying fertilizer and compost.
 3. Multifunction Garden Tumbling Composter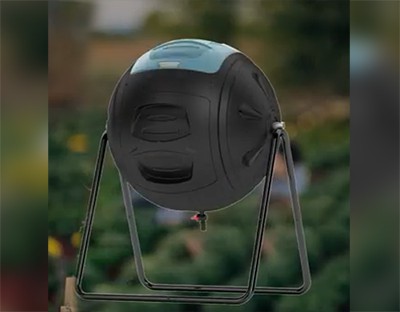 Do you want to be able to make liquid and solid plant food? If so, EJWOX multifunction garden tumbling composter is one of the best options to consider. Liquid and solid fertilizer have various uses, so having this versatility can be awesome for your home garden. Due to the conveniently located plug at the bottom of this compost bin, you can easily collect your liquid fertilizer to use in your garden.
Like the other options on this list, this tumbler bin has a rotating design that makes it fast and efficient for creating compost. EJWOX is a brand that has decades of experience in manufacturing home and garden goods for homeowners, making it a brand that people trust for quality goods. This tumbling compost bin is easy to turn and constructed with an internal bar that is made to maximize aeration. You are able to easily break up the clumps of compost so that oxygen can be introduced to make healthy compost.
The downside with this option is that unlike some of other options on this list, there is not a dual chamber on this composting bin. This means that you're not able to have a constant availability of compost. However, you do get the benefit of liquid compost which can be such a great resource for your garden.
4. Miracle-Gro Large Dual Chamber Compost Tumbler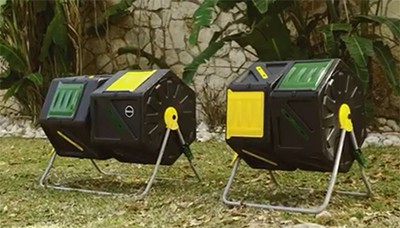 Miracle-Gro is a brand you are probably very familiar with when you are an avid gardener. They have taken their expertise in fertilizer and have created a large dual chamber compost tumbling bin for the at-home gardener to up their green thumb game. With a unique hexagon design and mixing bars, you get a better curing experience for your compost. It also has an innovative aeration system that allows the optimal amount of oxygen for quality compost. This compost bin also has a dual chamber, allowing for constant availability of compost.
Miracle-Gro is known for quality products and this composting bin is no exception. Using high-quality and durable materials, this compost bin was built to last you for a long time. You can get rich, fertile compost in about 6 weeks, depending on weather and other circumstances. Experienced gardeners and beginners alike will love this option.
5. Good Ideas CW-2X Compost Collecting Wizard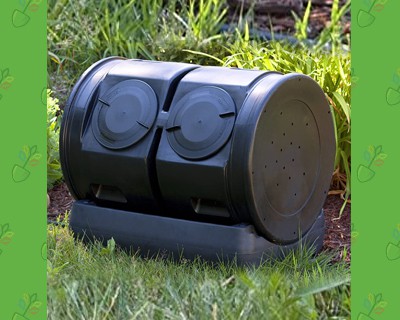 For those who only need a smaller compost bin, this is the option for you. Good ideas compost collecting wizard compost tumbling bin only has a capacity of 5 gallons, which can be perfect for those who are just starting off with a smaller garden. This allows beginners to determine if gardening is for them before they invest in more gardens or better tools. This is also perfect for those people who don't have access to a larger space for their garden.
Even smaller gardens can greatly benefit from awesome compost. That's why it's a great idea to invest in this affordable option. You can learn the basics of using a compost tumbling bin, helping you determine if you want to invest in a larger option later on.
Don't let the price fool you. Even as affordable as this option is, it's an easy-to-use and durable choice that can create awesome compost for your garden.
6. Vremi Tumbling Outdoor Compost Bin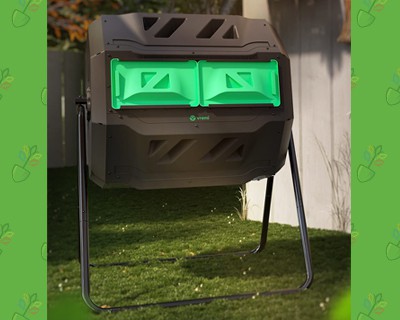 With a capacity of 42 gallons, Vremi Outdoor Compost Bin is second biggest tumbling compost on this list. Using a central axis rod, this dual chamber composting bin offers an optimal mixing experience for your compost. While this bin creates quality compost that gardeners of all skill levels will love, this bin is an especially good option for beginners. This composting bin is easy-to-assemble and easy-to use, but it's also a highly durable bin. It has UV-proof protection and an anti-corrosion frame, making this composting bin built to last. The door easily slides open and have handle grips, which makes it very easy to use.
This is also a relatively affordable option. If you want an awesome composting bin without breaking the bank, this is the perfect option for you.
As the most affordable tumbling composter on this list, Miracle-Gro small tumbling composting bin is another option from Miracle-Gro. You can choose from an 18.5 gallon or 27.7-gallon composter, depending on what your needs are. With this composting bin, you get a compact option that is great if you have limited space to work with. It's important to note that this is a single chamber composter. This means that it is better suited for those who have smaller gardens, without the need for a lot of compost.
Miracle-Gro is a gardening brand that is synonymous with high-quality gardening tools. Whether you're just a beginner trying to navigate making compost on your own for the first time or just have a small garden, you will be exceptionally happy with this composting bin.
Conclusion
Any of these options are great choices to consider for your home garden. To help you make the best decision for you, you need to first consider what your specific needs are for your compost tumbler bin. The compost tumbler best meant for your needs will offer you the results you are looking for when it comes to quality compost. Take a look at these different compost tumblers, carefully looking at the different features and price ranges of each compost bin to make the best decision for you.