POWER AND DURABILITY: A high performance and fuel efficient 79cc Viper engine starts up easily with a smooth pull recoil and delivers plenty of power to till through all kinds of soil conditions. Built-tough components like a bronze gear transmission and forged steel tines provide the rugged durability for lasting results season after season.
2-IN-1 VERSATILITY: Toolless removal of outer tines and side shields quickly turns the Tazz 2-in-1 from a tiller into a cultivator. Use the full 21" tilling width to create a level seedbed for planting. As your garden grows simply switch to the 16" or 11" cultivating widths to maintain rows and weed around plants. Clean-up, mulch and aerate in the fall with a quick flip back to the full tilling width.
Tazz 35310 2-in-1 Front Tine Cultivator is designed with balance in mind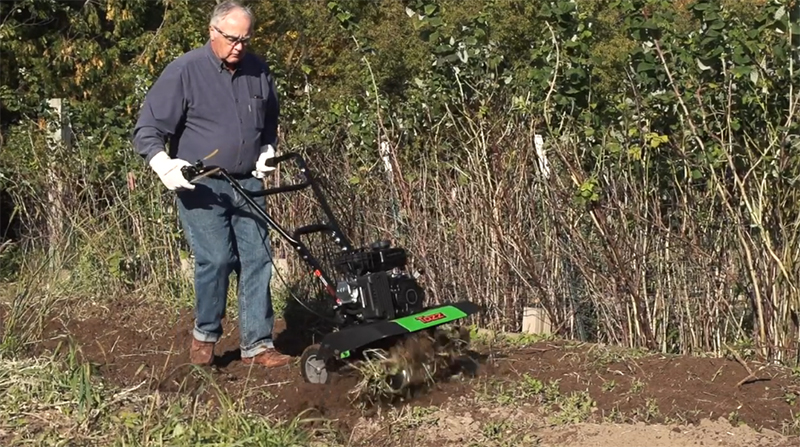 STABLE AND MANEUVERABLE: Compared with other compact front tines, the Tazz 35310 2-in-1 Front Tine Cultivator is designed with balance in mind. With its low center of gravity, the 2-in-1 provides ground-hugging stability for unmatched user control. Effortlessly turn on a dime at the end of a row utilizing the compact and centered footprint combined with a lightweight design.
FLEXIBLE OPTIONS: The steel constructed handlebar has 4 height positions to ergonomically accommodate any user. Tilling depth can also be controlled up to 11" deep via a multi-position drag stake that adjusts in a snap with no tools required.
SERVICE AND SUPPORT: Our US based support staff and 3-Year Limited Warranty ensure that you will be highly satisfied with your Tazz 35310 2-in-1 Front Tine Cultivator so you can confidently get out and enjoy your garden.
Power source type: Gas Powered